SPA OF LA ENCARNACIÓN
15 Mar 2019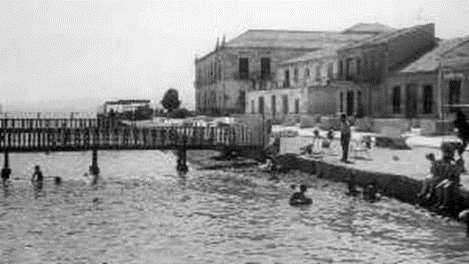 History of the balneario
The origins of the Los Alcázares thermal baths date back to Roman and Arab times, when the nobility enjoyed the benefits of the Mar Menor's waters, which led to the establishment of the area that today belongs to the municipality of Los Alcázares.
Despite the centuries, the use of thermal waters is still current, thanks to the health benefits they provide. This treatment is known as thalassotherapy, which was already practised or performed in the Middle Ages and in earlier times.
It was at the end of the 19th century that this area of the Mar Menor once again hosted several summer residences, not only of the rural people of the interior but also of the middle classes, who practised the 'novenario', which consisted of at least nine baths in the form of sea washes.
Moreover, during the same period, there was a revival of commercial and fishing activity, which increased the population even more.
Also in 1915, the first seaplane base of the Spanish army was built, from which would later emerge the General Aviation Academy in the neighbouring town of San Javier.
During the commercial, fishing and tourist growth that took place between 1901-1903, Don Alfonso Carrión Belmonte decided to build the spa of La Encarnación. It is a brick building on the beach.
In 1904, this spa opened its doors for the first time and met with great success among guests and users of the thermal baths.
As an anecdote, it was the first tourist institution to publish the first propaganda brochure in 1904, setting a milestone in the promotion of tourism at the time.
Balneario La Encarnación.
FTE Museo Aeronautico de los Alcazares
Image gallery
Downloads
Download