Are you planning your wedding? Go ahead and say 'YES, I DO' on one of the beaches of Los Alcázares, and get a surprise!
26 Jul 2023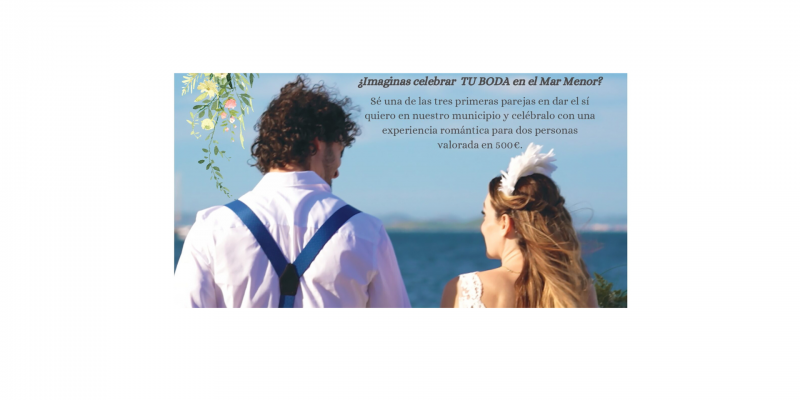 Los Alcázares invites you to say 'I do' on one of its beaches.
The first three couples who decide to celebrate their wedding by the Mar Menor in the municipality of Los Alcázares will receive a very special gift worth 500 euros.
Los Alcázares announces that three of the municipality's beaches will be able to host weddings on the shores of the Mar Menor.
According to the resolution, weddings may be held on three of the municipality's beaches on Saturdays and Sundays throughout the year, with the exception of July and August. The maximum duration of these events, including set-up and dismantling, will be three hours and they may occupy a maximum surface area of eighty square metres.
Furthermore, pyrotechnic devices and the use of traditional elements such as rice or confetti are prohibited, as it is essential for this new activity to coexist in perfect harmony with the care of the environment and the protection of our Mar Menor.
Los Alcázares also has all kinds of sectors that will help couples to organise and celebrate their big events, such as florists, shops specialising in party dresses, hairdressers, make-up artists, copy shops and jewellers, among others.
Without a doubt, it is a unique opportunity to celebrate your wedding in a natural setting, as special as our Alcazara coast and its Mar Menor. Make the most of it and live the experience!