CELEBRATION IN INMOALCAZARES
28 Feb 2022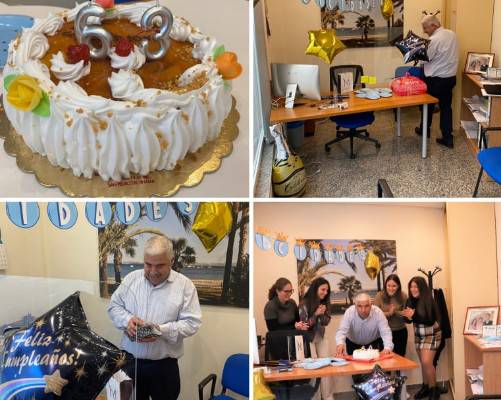 Last Monday we were celebrating at Inmoalcázares. Among all our colleagues we prepared a surprise party for our manager Joaquín for his birthday.
When Joaquín arrived at the office and opened the door to his office, he was very surprised and excited to see how we had decorated his office. We put a garland on the wall, some funny balloons and on the table we left a delicious cake with the candles on it, ready to blow out and fulfil his birthday wishes.
Along with the cake, we also left him a small gift from the whole Inmoalcázares team.
The most beautiful thing was undoubtedly Joaquín's smile, which was brimming with happiness.
The truth is that any of us would sign for his birthday, with that tireless energy, that perseverance that he has for his work, which for him, is his life.
Thank you Joaquín for all that you teach us day by day; what a small thing that for your birthday, it was us who took care of you a little.