THE PASEO DE LA FERIA CHANGES THE IMAGE
24 Feb 2021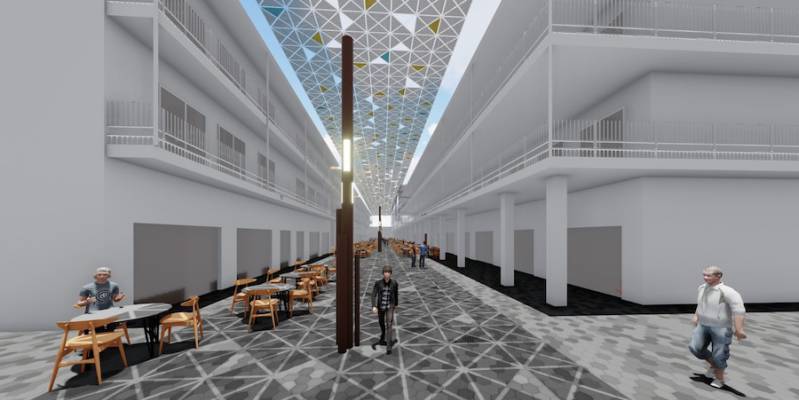 This historic street, which concentrates the largest number of shops and links the urban fabric with the beach and the centenary hotel La Encarnación, has gradually deteriorated and lost part of its identity. With the replacement of the pavement, in the same hexagonal tiles as in the Plaza del Consistorio, it is intended to give an image of continuity to all the center. The streets surrounding the Fair, such as Cartagena and Los Luisos streets, are included in the urban transformation plan.
The streetlights will be replaced by more modern ones, shaped like a tube. The ventilation of the basements will be ensured by means of higher pipes, which will improve the air quality in that environment. Fair visitors will enjoy shade along the entire pedestrian avenue, as a mosaic-shaped awning will be installed to filter the light. A children's playground will be installed in the Plaza de la Feria.
The terraces will have a proportional space, with corridors between each business. The town hall prepares an ordinance that will establish a rate per square meter of occupancy, with a price difference between the premises of the promenade and the pedestrian streets, with respect to the rest of the urban roads. Also "a different price will be set for the high and low season, in order to compensate those who keep the business open all year," says the mayor, Mario Pérez Cervera.
Another new ordinance, on the installation of the awnings will force to collect them and release the public space when the activity ends.
THE SQUARE OF THE TOWN HALL, CLEARER
For the Town Hall Square, the initial design for the accesses to the underground car park has been modified. "The structure envisaged in the previous project caused complaints from residents, whose homes were losing visibility, so the architect has planned an exterior lattice that does not require heights," says Pérez Cervera.
At this meeting point, which is the square, the artificial grass islands included in the previous project will be replaced by flower beds of natural vegetation adapted to the Mediterranean climate.